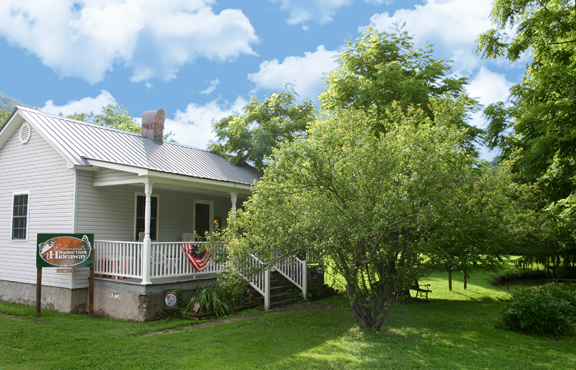 Richmond's Meadow Creek Hideaway
Private rental home, apartment, and two fun sized camps, located in the New River Gorge at Meadow Creek,
W. Va.
Amenities:
Fully furnished private home; three bedrooms; living room; fully equipped kitchen; bathroom with washer/dryer; TV with satellite; linens; outdoor grill; large back yard; private river access; and heat pump/cooling unit.

Rates: Spring and Summer 2016
House-Sunday - Thursday-$95.00 per night
Apartment-Sunday -Thursday-$75 per night
Fun sized camps-Sunday-Thursday- $50 per night
Friday-Sunday= $200.00 house; $175.00 apartment; $125 small camps
Sunday-Saturday= $600.00 house; $400.00 apartment; $300 small camps
State & county tax applies.
WV State ID: L1523855616

**Reservations being accepted now for Spring & Summer 2016**
Upcoming events in the area to book early for:
Chocolate Festival, Lewisburg, WV, April 9, 2016
The Greenbrier Classics, July 4-10, 2016
Friends of Coal Auto Fair, Beckley, WV, July 15-17, 2016
John Henry Days, Talcott, WV, July 8-10, 2016
TOOT- Lewisburg, WV, October 8, 2016
Hinton Rail Road Days- October 15-16, 2016-October 22-23, 2016
Bridge Day, Fayetteville, WV, October 15, 2016

In addition to our private home, we have Richmond's Meadow Creek Hideaway II - a garage sized apartment over looking the New River. Fully furnished living room/kitchen combo; bathroom with shower; and bedroom. Sleeps two to four comfortably. Includes a deck and patio over looking the river. Rent separately or in addition to the house.**


We also have two fun sized camps that are fully furnished with a kitchen/living room combo; loft and sofa beds; bathroom with shower; satellite tv; and large decks. These are located in the heart of Meadow Creek, near public access stream.

Directions: Take Interstate 64 to Exit 139, Sandstone/Hinton. Make a right and travel towards Meadow Creek.

Other Area Activities:
Pipestem, Bluestone, and Babcock State Parks; Bluestone Lake; Wildwater Express Waterslide and pool; Cantrell Canoes and Rafts, Inc.; Willowwood Country Club and golf course; New River Gorge National Visitors Center; Beckley Exhibition Coal Mine; Winter Place Ski Resort; and Meadow Bridge Drive Inn.

Plus, plenty of fishing, camping, rafting, 4-wheeling, skiing, motorcycling, biking, hiking, golfing and more!!